Saughtonhall Community Association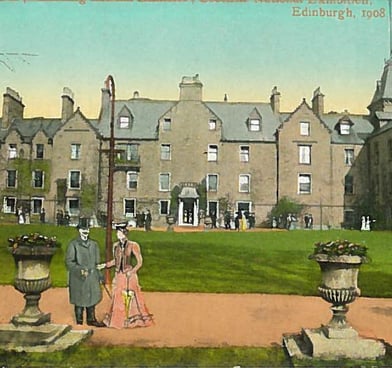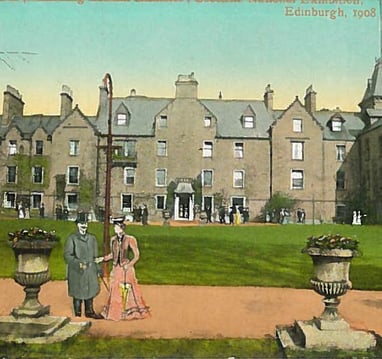 History of Saughtonhall
Saughtonhall lies about three miles from Edinburgh city centre on the western side. From many parts of the community there are stunning views of Edinburgh Castle, Corstorphine Hill and the Pentland Hills to the south. See our Saughtonhall Photo Gallery or the new photo slideshow.
Its boundaries are roughly Roseburn to the east, Balgreen and Corstorphine to the west, Murrayfield to the north and the Water of Leith and Gorgie to the south. It is close enough to the city to be part of the centre, yet it retains its quiet community identity.
"Saugh" means "The Willow Tree" and the reference is to the willows by the Water of Leith. The name "Saughtonhall" is appropriate for the area in which they are situated. "Saughton" names are further west and are more likely derived from the house of "Old Saughton".
Saughtonhall streets like Baird Drive, Gardens and Grove were taken over as public streets in 1928. The Baird family are first mentioned in 14th century. The present Baron (2005) is Alexander Baird of Saughtonhall, Younger, according to Burke's peerage.
Most of the current buildings date from the early 1900s through to the 1930s. Saughtonhall Drive, the tree lined avenue from Western Corner to Balgreen, displays a wide mix of houses from that period and is a stunning sight in spring when its host of apple and cherry trees are in full bloom.
Trees are an integral part of the community, lining several streets and surrounding the Saughtonhall Association's Recreation Ground.
Our unique Community Association has been running now for decades. It is always been hailed as an outstanding example of how a community can come together to support each other and have fun - a comparative rarity in our city nowadays. The Association was formed way back in 1929 when a group of enterprising residents grouped together to take possession of the crumbling former tennis club pavillion and its incredibly spacious grounds. In an area of our city where land is at a premium it is a spectacular achievement to have maintained this unique facility for the benefit of the local community, in the face of huge development pressures. To this we owe our thanks to the long term support of the City of Edinburgh Council, who own the building and grounds, and the sterling efforts of generations of local people to give their valuable time to run the Association. You too can help us and derive great pleasure from being part of this dedicated group of volunteers by joining the Association and helping with our activities. Just drop us an email at saughtonhallcommunity@gmail.com.