Saughtonhall Community Association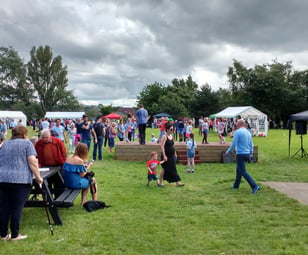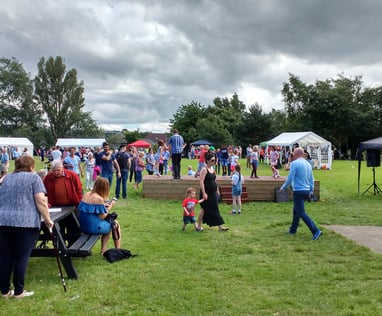 Established in 1929, the Saughtonhall Community Association is lucky enough to have a hall with extensive grounds to use in a wide variety of ways for the local community. The hall hosts regular classes and groups, and we have an array of social events including parties, carol singing, family barbecues, a Burns' Supper, as well as the annual Summer Fete.
We are very unusual in Edinburgh in that we are locally run and receive no funding from the City of Edinburgh Council. We are a registered charity who rely upon membership fees, hall rentals, our own fundraising and any grants for which we successfully apply, to fund the day-to-day running of the hall and invest as much as we can in our facilities and events.
The Association is run by a committee of trustees. The committee and our wonderful volunteers organise all the events you see advertised on this site, as well as to take on the day-to-day running of the hall and Recreation ground. If you would be interested in volunteering, even a little of your time, please visit the Volunteer page for more information.

You can see our Constitution here.
Vice chair - Alastair Robertson
Alastair joined the committee in 2017 and he is currently Vice Chair. He has lived locally for the last 8 years, and has lived in Edinburgh for all of his adult life. Alastair works as a Music Therapist in the third sector and NHS, and enjoys being involved in this project, which helps to keep him more in touch with the local community.
Treasurer - Mark Taylor
(Awaiting Text)
Secretary - Elaine Rumney
Elaine and Moray have lived in this area for 30 years. They have loved the feeling of the countryside being so close to the town. Their two children grew up attending Roseburn Primary and Craigmount schools. The Rec was a source of enjoyment to them, attending parties, the pre-school group, playing in the woods.
Elaine has spent her working life in the voluntary sector, and over the years has volunteered in a toy library inside Saughton Prison, busked along in music workshops for adults living with a learning disability, and run a church group for adults who like to "do church" at a slower pace. When a flyer came round about six years ago, letting us know that the Rec might revert to the Council if more committee members could not be found, it seemed a great opportunity to get involved in something really local. Elaine became Secretary a year or so later, and has enjoyed getting to know more people in the community, and making new friends.
Helen Brockie
Helen has lived in Murrayfield since 2001.
Since 2012, Helen has been a committed member of the Association, which included a period of two and a half years as Secretary.
Helen enjoys organising events, which bring together people from the community, along with looking after our fantastic green space which is a unique asset in this part of Edinburgh.
James Ogilvie BA, MA, MSc, CEnv, FICFor
James has been an SCA committee member on and off since 2000, during which time he held the role of Chair for two terms of office. During his 40 years in sustainable forest management he led on social policy for Forestry Commission Scotland. He is currently a non-exec Director of the Woodland Trust and Borders Forest Trust and is a Business Ambassador for Tree Aid. His published works include 'Heritage Trees of Scotland', 'A Brief History of the Forestry Commission', 'Adventure Holidays Worldwide', 'Staring Down on Stars', 'A Family Tree', Latitude Attitude' and 'Getting High - A World at my Feet'.
James is acutely aware of the privilege of living in a lovely neighbourhood with an empowered community association with resources that make it pretty well unique in the whole of Edinburgh.
Zia Rahman
Zia moved into the neighbourhood in 2011 and has been a member of the SCA Committee ever since.
He continues to have close links in the area with both his kids attending local schools. Zia's love of sport has also allowed him to coach the local P7 and Edinburgh City kids football teams.
Moray Rumney
Moray Rumney joined the SCA committee soon after Elaine who enthused about what a joyful group of people they were. Moray is semi-retired, director of his own telecommunications consultancy. He is also director of a charity providing IT services for older people and director of the Scottish Fiddle Society. Having built his own house in the area, Moray has an interest in the fabric of the SCA premises and the upcoming refurbishment plans.
Sheila Watt
Sheila has been involved with SCA for more than 10 years. She is happy to be part of this dedicated group of volunteers. Sheila is involved with upkeep of the recreation ground and she always try to be available to help at any of the SCA events.
Carolyn Williams
(Awaiting text)
Clare Marshall
Having grown up in the area and with fond memories of parties and events held in the rec hall, frustrated that lots of people in the local area don't even know the rec exists, Clare joined the SCA committee in January keen to improve links with the community and see the hall and grounds better utilised by local people and groups.
Clare is a well known face in the area as a founding trustee of local charity 'Tummies Not Trash' that prevent food waste across the city and she has been a key facilitator in restarting the baby and toddler group that has run at the hall since it's early years (and that she attended when she was one of the babies!)
She has run a 6 week breakfast club in the rec hall with her team at Tummies Not Trash, is keen to start a community lunch project and will be recognised by many of you for having volunteered at a number of the summer sessions.
Clare is keen to progress with the SCIO model to create a more up to date organisation that can help the local community thrive for the next 100 years.
Jude Thomas
Jude joined the committee after last year's AGM - keen to see this fantastic local resource better utilised for the community.
As a primary teacher, she sees first hand the benefits of building a strong local community and Jude immediately got to work on connecting the SCA with local groups, committees and resources, to bring benefit to our local area.
Many of you will know Jude from the 'Summer Sessions', her 6 week programme of events for families, that thanks to a network of local groups brought croquet, bowling, dance, storytelling, magic and even dinosaurs to the SCA! Jude was also responsible for securing all of the funding for this project and it has provided equipment that will have a lasting legacy and benefit our community for many years to come.
Jude has contributed a lot to the SCA since becoming a trustee. She has been a driving force in re-establishing the baby and toddler group, created more opportunities for the community to socialise, promoted better governance, and reinvigorated the website/social media.